This exhibit is included with your Garden admission.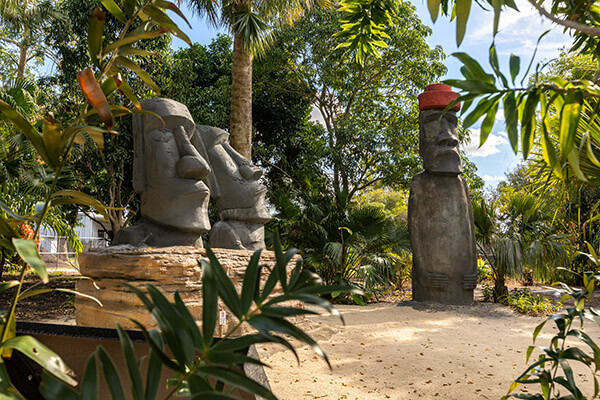 Reconnect with History. Thanks to the vision and gift of Margaret Blume, the Tropical Forest Garden re-opened last fall with the permanent installation of three imposing moai statues, replicas of the iconic monolithic, human figures located on Rapa Nui (Easter Island), Chile.
Designed by artist Dennis MacDonald with great attention to authenticity and detail, each statue is made of solid, reinforced, poured concrete and has been stained to create a weathered appearance. The larger moai stands 23 feet tall and wears a "hat" known as pukao, two additional pukao rest on the ground.
Visitors will discover the inspiring story of the moai and the Rapa Nui culture. The tribute is meant to inspire curiosity and to serve as a link to ancient history, art and culture.
---
Garden hours and Admission
Tuesday-Sunday, 9 a.m.-4 p.m. (November-May); 9 a.m.-3 p.m. (June-October); last entry is an hour before closing.
Regular Garden Admission:
FREE for MBG members
$12 adults;
$10 seniors, college students and military with ID
$5 ages 6-17
Free for children under 6 and AHS Reciprocal Admission Program members (must show member card)
Tickets available at the gate
Mounts Botanical Garden Programs and Exhibits are sponsored in part by: