A Season of Awe, Wonder, and Reconnecting
We have dedicated this Season to the Awe and Wonder of nature, art and reconnecting to experiences that bring you joy.
---
Events & Exhibits
Moai at Mounts Botanical
This exhibit is included with your Garden admission.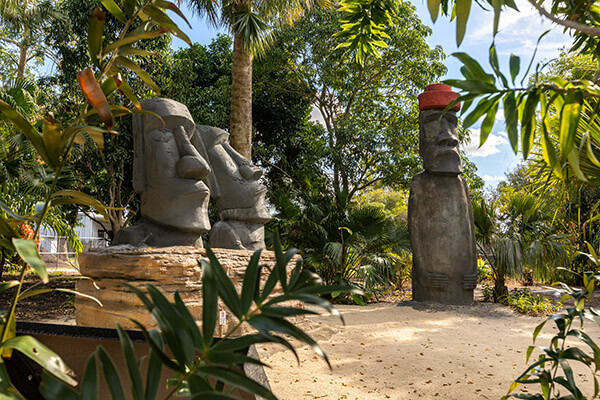 Reconnect with History. Thanks to the vision and gift of Margaret Blume, the Tropical Forest Garden re-opened last fall with the permanent installation of three imposing moai statues, replicas of the iconic monolithic, human figures located on Rapa Nui (Easter Island), Chile.
Designed by artist Dennis MacDonald with great attention to authenticity and detail, each statue is made of solid, reinforced, poured concrete and has been stained to create a weathered appearance. The larger moai stands 23 feet tall and wears a "hat" known as pukao, two additional pukao rest on the ground. The tribute is meant to inspire curiosity and to serve as a link to ancient history, art and culture.
---
Dogs' Day in the Garden – 2nd Sunday Each Month
Dogs' Day is included with your regular Garden admission.

Reconnect with your Best Friend. Dogs' Day in the Garden offers families a refreshing departure from everyday dog walks. Bring your beloved pooch to enjoy a relaxed garden stroll. There are many great spots to capture family photos for posting online with #mountsbotanicalgarden.
Know Before You Go! For Dogs' Day rules, please visit www.mounts.org/dogs-day.
---
Palm Beach County Resident Days – June 11, July 9, August 13, 2022, and September 10
2nd Saturday, 9 a.m.-3 p.m.; last entry at 2 pm.
PBC residents receive free admission with proof of residency.
---
Summer Sunflower Project – Blooming by July-August
Our Sunflower experience is included with your regular Garden admission.
Reconnect with the Joys of Summer. Our 2nd annual Sunflower Project moves to the Edible Garden! Seeding begins in early June, and depending on the rains we hope to see sunflower beauties by July and August. Follow us on Facebook and Instagram (@mountsbotanicalgarden) for updates.
---
Exotics and Orchids Sale – September 17 & 18
Reconnect with Gardening. The west end of the Garden will be filled with an amazing selection of orchids and exotic plants from 30 of South Florida's premier vendors. You'll find dazzling orchids, begonias, bromeliads, ferns, hoyas, aroids, garden art, baskets, and much more!
Saturday, September 17th, 9:00 am-4:00 pm
Sunday, September 18th, 9:00 am-3:00 pm
Cost: $15 (adults); $12 (seniors 65+, college students and military with ID); $7 (ages 6-17); ticket includes full Garden admission.
Purchase tickets at the gate.
---
Classes, Workshops & Garden Walks
CLICK to learn more and select your date.
May 17, 24, 31; June 7, 14, 21, 28 – Watercolor Classes with Carl Stoveland
Tuesdays, 10:00 am to 12:30 pm

Each class begins with a nature walk to inspire you and give you an opportunity to capture photos with your phone or tablet. Class is held indoors and includes a demo topic and instruction tailored to each student. Open to all levels.
May 18, 25; June 1, 8, 15, 22, 29 – Wednesday Walk and Talk with April Krebs
8:30 am to 9:30 am
Come early to enjoy the quietness of the morning while you reconnect and recharge with nature.
May 18, 25; June 1, 8, 15, 22, 29 – Qi Gong Classes with Roxanne Cumberland
Wednesdays, 10 am to 11 am
Relieve stress and increase your metabolism, flexibility, and strength. Qi Gong (pronounced chee-gong) is an ancient Chinese exercise and healing technique.
May 21, 28; June 4, 11, 18, 25 – Tai Chi Classes with Josefina McMahon
Saturdays, 10:00 am to 11:00 am
Tai Chi originated from ancient China and is an art form as well as an exercise. The movements are flowing and gentle, but profoundly powerful. The practice of Tai Chi is to magnify, strengthen and to encourage the flow of the internal energy, the "chi".
Thursday, June 9 – A Newcomer's Guide to Gardening in South Florida
10:00 am to 11:30 pm

MBG docent Nada Vergili leads this informative class/walking tour focusing on plants that thrive in a sub-tropical climate, how to improve your soil quality, what to plant in sun & shade, and how to avoid common mistakes people make when moving to South Florida.
Saturday, June 11 – Blooms and Bubbly: Flower Arranging Workshop
11:00 am to 1:00 pm
Grab a friend and get ready to pamper yourselves in this fabulous floral arranging class. Surround yourself with the scents and beauty of dozens of blooms while creating your own beautiful floral arrangement. Sip on complimentary prosecco mimosas or sparkling cider.
Thursday, June 23 – Propagation: Increasing Your Numbers
10:00 am to 12:00 pm
Display Gardens Horticulturist Joel Crippen leads this hands-on workshop (for novices and enthusiasts) on the process of creating new plants from a variety of sources. Workshop includes a comprehensive look at a range of propagation techniques including dividing clumping plants; collecting, preparing, sowing seeds; and how to make and root soft and hardwood tissues with or without a misting system.
National Pollinator Week (June 20-26) Activities
CLICK to learn more and select your date.
Thursday, June 23 – Kids! Nature Explorer's Pollinator Expedition with Professor Screech
10:00 am to 11:30 am
Come explore the Garden with Professor Screech (aka Autumn Kioti), who will lead explorers on a special journey through the natural world inside the Garden. Learn fun facts about the Garden's insect and animal pollinators and create your own nature art project. This tour is designed for youth ages 8 to 12.
Saturday, June 25 – Butterfly and Pollinator ID Walk
1:00 pm to 2:30 pm
Join us for a butterfly and pollinator ID Walk with Teri Jabour, President of the Atala Chapter of the North American Butterfly Association. Teri will share tips on how to identify our local butterflies and what we can do to help attract them to natural areas, gardens and to our yards.
---
Garden Explorers Summer Camp
CLICK to learn more and select your week.
Week 1: July 11-15
Week 2: July 25-29
Mounts Botanical will present two, week-long, science-based, camp experiences designed for ages 7 to 11. Select one, or send your child to both weeks so they can build on their skills! Camp activities will take place both outside and inside. Campers will have access to cool, safe, inside space when needed due to excessive heat or in the event of rain.
---
Garden hours and Admission
Tuesday-Sunday, 9 a.m.-4 p.m. (November-May); 9 a.m.-3 p.m. (June-October); last entry is an hour before closing.
Regular Garden Admission:
FREE for MBG members
$12 adults
$10 seniors, college students and military with ID
$5 ages 6-17
Free for children under 6 and AHS Reciprocal Admission Program members (must show member card)
Tickets available at the gate
Mounts Botanical Garden's Season of Awe & Wonder is sponsored in part by: